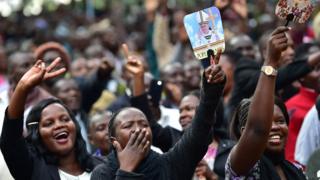 PHOTO-More than 155,000 young Ugandans Sheers After the Pope arrives to Uganda in Honors 43 Christians Burnt Alive In Uganda For Refusing To Renounce Their Faith.
Add caption
The 78-yrs Old Francis Pope spoke at a Catholic shrine dedicated to Christians martyred for their faith in the 19th Century.
Thousands of enthusiastic Ugandans have greeted Pope Francis as he held a mass youth rally and honoured martyred Christians during the second leg of his historic three-nation trip to Africa.
After the mass more than 155,000 young Ugandans gathered on the outskirts of Kampala for the Pope's other public event of the day.
Pope Francis urged them to use their faith to confront life's difficulties and turn negative experiences into strength.
Uganda is a deeply religious country, with over 14.1 million Catholics - and even adherents of other faiths will be paying close attention to the Pope's words, say correspondents.